Que tal mais uma banda Underground aqui no Blog? Então vamos lá!
Nuclear Assault
é uma banda vinda direto dos EUA, fazendo um fodastico
Thrash Metal
. É uma das bandas mais extremas e fodonas do estilo, uma banda que merece muito respeito de qualquer ser humano vivo com bom gosto músical, com sua mistura de
Heavy Metal
,
Speed Metal
e
Crossover Thrash
, toda essa fusão se resume a Nuclear Assault. A banda começou em 1984 formada por
Danny Lilker
(que também foi membro fundador de bandas como
Anthrax
,
S.O.D.
e
Brutal Truth
). Era a época da "efervescência" do Thrash norte-americano que aconteceu no início dos anos 80, puxada pelo
Slayer
,
Metallica
e outros grupos. Depois de participar do primeiro disco do
Anthrax
,
Fistful of Metal
, de 1984, Danny decidiu procurar por um estilo mais agressivo. Junto ao guitarrista/vocalista
John Conelly
(outro que estava presente nos primórdios do
Anthrax
), também ao guitarrista
Mike Bogush
e ao baterista
Scott Duboys.
Os dois últimos músicos duraram apenas alguns meses, sendo logo substituídos por
Anthony Bramante
e
Glenn Evans
, respectivamente, guitarra e bateria. Durante seus dez anos iniciais, a banda fez um poderoso Speed Metal passeando pelo Crossover Thrash com temas incisivos que tratavam de política, criticas sociais e capitalismo. Junto com
Anthrax
,
Overkill
, e outras poucas bandas, o Nuclear Assault (as três citadas com base em Nova York) também desafiou a preponderância da Bay Area de São Francisco, onde o Thrash se encontrava polarizado. O "
debut
" da banda foi
Game Over
, (um álbum que pode ter o orgulho de ser chamado de Foda) de 1986. Apresentando seu Thrash veloz com pitadas de hardcore, a banda foi bem recebida pela critica e, no decorrer dos shows, também conquistou muitos fãs. Dentre as músicas, "
Sin
" com uma bela cozinha. Após um single do mesmo ano, chamado "
Brain Death
", a banda solta em 1987,
The Plague
, segundo disco, ainda mais pesado e muito mais Thrash. Nesse álbum é revelado o humor negro dos caras que satirizam o vocalista do "
Mötley Crue
",
Vince Neil
, na música "
Butt Fuck
", mudada de nome depois para "
You figure it out
". Também se destaca a meio hardcore, "
Game Over
". As turnês ficaram cada vez maiores e entre elas o grupo grava
Survive
, que mostra desenvolvimento no som, o single "
Fight to be Free
" (ambos em 1988) e o glorioso
Handle With Care
de 1989. Este disco solidificou a banda no cenário Thrash, foi aclamado pela critica, alcançou a MTV que ajudou difundindo "
Critical Mass
" e "
Trail of Tears
", além de render shows inesquecíveis na Europa ao lado de
Exodus
,
Testament
,
Savatage
e outros. Em seguida veio um excelente álbum ao vivo intitulado
Live at the Hammersmith Odeon
de 1990 e em seguida,
Out of Order
em 1991, último álbum com o baixista Danny Lilker que saiu para começar o
Brutal Truth
, sua banda de
grindcore
. Em 1993, a banda ainda gravou
Something Wicked
, embora tenha acabado logo depois. Danny Lilker continuou no Brutal Truth até o fim da banda em 1998 e logo apareceu mais um trabalho no S.O.D., o
Bigger Than the Devil
, de 1999, (muito bom por sinal). Depois ele sai desse grupo (por causa de alguns desentendimentos com Billy Milano). Durante quase dez anos fora da banda, Danny recusou alguns pedidos de volta da banda, mas algum tempo depois acabou retornando com a formação original. Após o seu retorno, a banda tocou no CBGB e em festivais como Metal Meltdown Fest em New Jersey, no Wacken Open Air na Alemanha e no Brasil, onde tocaram em 1989 com o
Sepultura
que abriu seu show.
(Nuclear Assault e tão foda, que ate outra banda muito respeitada na cena do Thrash como
Sepultura
abre seu show!). Deste retorno resultou ao vivo
Alive Again
de 2003, marcando a volta definitiva da banda, em sua formação original, exceto pela substituição de
Bramante
por
Erik Burke
. O álbum foi arrasador e com as performances, o grupo descobriu que havia demanda pela sua volta. Assim, após várias turnês a banda lança o novo trabalho de estúdio,
Third World Genocide
, lançado pela SPV. No mesmo ano, a banda faz mais um show pelo Brasil, junto com a lenda alemã,
Sodom
.
Demo 1984 (1984)

01 - Stranded in Hell
02 - Nightmares
03 - Cold Steel
04 - The Plague
05 - Cross of Iron
06 - Vengeance
07 - Hang the Pope
Download
Life, Suffer, Die (Demo) (1985)

01 - Live, Suffer, Die
02 - Radiation Sickness
03 - Betrayal
04 - Demolition
05 - Hang the Pope
Download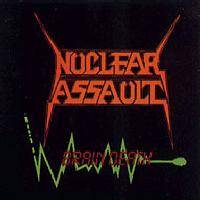 Brain Death (EP) (1986)
01 - Brain Death
02 - Final Flight
03 - Demolition
Download
Game Over (1986)
01 - Live, Suffer, Die
02 - Sin
03 - Cold Steel
04 - Betrayal
05 - Radiation Sickness
06 - Hang the Pope
07 - After the Holocaust
08 - Mr. Softee Theme
09 -Stranded in Hell
10 - Nuclear War
11 - My America
12 - Vengeance
13 - Brain Death
Download
The Plague (1987)
01 - Game Over
02 - Nightmares
03 - Butt F**k
04 - Justice
05 - The Plague
06 - Cross of Iron
Download
Good Times Bad Times (EP) (1988)
01 - Good Times Bad Times
02 - Hang The Pope (Live)
03 - Lesbians (Live)
04 - My America (Live)
05 - Happy Days
Download
Fight to Be Free (EP) (1988)
01 - Fight to Be Free
02 - Equal Rights
03 - Stand Up
04 - Brain Death
05 - Final Flight
06 - Demolition
Download
Survive (1988)
01 - Rise from the Ashes
02 - Brainwashed
03 - F#
04 - Survive
05 - Fight to Be Free
06 - Got Another Quarter
07 - Great Depression
08 - Wired
09 - Equal Rights
10 - PSA
11 - Technology
12 - Good Times Bad Times
Download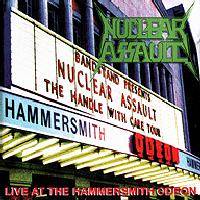 Live at the Hammersmith Odeon (Live) (1989)
01 - Intro / New Song
02 - Critical Mass
03 - Game Over
04 - Nightmares
05 - Butt F**k
06 - Survive
07 - Torture Tactics
08 - Trail of Tears
09 - Mother's Day
10 - My America
11 - Hang the Pope
12 - Lesbians
13 - Funky Noise
14 - Good Times Bad Times
Handle with Care (1989)

01 - New Song
02 - Critical Mass
03 - Inherited Hell
04 - Surgery
05 - Emergency
06 - Funky Noise
07 - F:(Wake Up)
08 - When Freedom Dies
09 - Search & Seizure
10 - Torture Tactics
11 - Mother's Day
12 - Trail of Tears
Out of Order (1991)
01 - Sign In Blood
02 - Fashion Junkie
03 - Too Young to Die
04 - Preaching To The Deaf
05 - Resurrection
06 - Stop Wait Think
07 - Doctor Butcher
08 - Quocustodiat
09 - Hypocrisy
10 - Save The Planet
11 - Ballroom Blitz (Sweet Cover)
Something Wicked (1993)

01 - Something Wicked
02 - Another Violent End
03 - Behind Glass Walls
04 - Chaos
05 - The Forge
06 - No Time
07 - To Serve Man
08 - Madness Descends
09 - Poetic Justice
10 - Art
11 - The Other End
Alive Again (Live) (2003)

01 - Rise from the Ashes
02 - Brainwashed
03 - F#
04 - New Song
05 - Critical Mass
07 - Sin Betrayal
08 - Radiation Sickness
09 - Game Over
10 - Butt F**k
11 - Trail of Tears
12 - Hang The Pope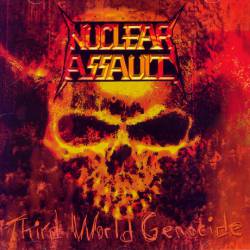 Third World Genocide (2005)
01 - Third World Genocide
02 - Price of Freedom
03 - Human Wreckage
04 - Living Hell
05 - Whine and Cheese
06 - Defiled Innocence
07 - Exoskeletal
08 - Discharged Reason
09 - Fractured Minds
10 - The Hockey Song (Or, Message to a Late Night DJ)
11 - Eroded Liberty
12 - Long Haired Asshole
13 - Glenn's Song
Download
Pounder (EP) (2015)
01 - Pounder
02 - Lies
03 - Analog Man
04 - Died In Your Arms
Download
(Ulozto)
Download
(Zippyshare)