Se você procura uma banda Rápida, Pesada e Foda, está no lugar certo, essa banda e totalmente "Ultra-Mega-Power-Fuck". A 1º vez que ouvi essa banda mudou totalmente minha visão por
Crossover
, ainda mais quando eles juntam com um pouco de
Thrash
, da uma fusão perfeita. Isso tudo se resume na banda
Municipal Waste
, uma banda de Crossover/Thrash vinda direto de Richmond, Virgínia nos Estados Unidos. O Som da banda e um Crossover/Thrashcore, puxando no estilo meio
Hardcore Punk
com o melhor do Thrash Metal. No nascimento da banda, os caras tiravam um som muito rápido, puxando mais pro lado
Thrashcore
. Só que com o passar dos anos, a banda foi absorvendo elementos metálicos ao som, assim começando o Crossover. Os discos
"Hazardous Mutation"
e
''Art of Partying''
foram lançados no Brasil pela gravadora
"Enemy One Records"
em 2007. Uma marca da banda, é que sempre nos seus shows, é normal ver os integrantes da banda fazer
"Crowd Surf"
com pranchas de Bodyboard. Em 2009 a banda lança o disco
"Massive Agressive"
, nos mostrando mais uma vez serem muito dignos no estilo, apesar de este não ser um dos melhores e aclamados álbuns do que os anteriores. A banda é considerada
"Os Reis da Nova Onda do Crossover"
. Outra marca da banda, é que eles se entregam ao Puro é Cru
Thrash-Core
, seguindo a tradição de bandas como
D.R.I.
,
Suicidal Tendencies
,
Nuclear Assault
e
Attitude Adjustment
. A banda iniciou quando seus integrantes eram ainda jovens, e aproveitando sua energia e humor , Injetaram os mesmo na banda, criando um gênero clássico, igual os mesmos. Municipal Waste rapidamente se estabeleceu como um dos líderes de uma cena com rápido crescimento de bandas com espírito Crossover da década de 80. Uma banda rápida, furiosa e engraçada, suas canções são curtas, mais são como hinos memorável falando de resíduos urbanos, cerveja e muito Thrash. A dedicação dos integrantes a banda e muito serio, mas eles são confiantes demais a ponto de não terem medo de trazer a diversão de volta para o Hardcore. Músicas com títulos como
"Thrashing's My Business And Business Is Good"
,
"Thrash? Don't Mind If I Do"
, e
"Drunk As Shit"
, Muncipal Waste ganharam a marca de "
Party Thrash
". A banda Municipal Waste é incrível em seus shows que se espalharam de costa a costa, e em todo o mundo.
Municipal Waste EP (EP) (2001)
01 - Ammunition (Intro)
02 - Thrashin's My Business... and Business Is Good
03 - Detention Mosh Session
04 - Ratbite
05 - Rock/Hatchet/Knife
06 - Floor Score
07 - CxMxDx
Download
Tango and Thrash (Split) (2002)
MUNICIPAL WASTE:
01 -
Municipal Waste:
Escape From New York (Intro)
02 -
Municipal Waste:
Big Trouble Un Little China
03 -
Municipal Waste:
Captain Ron (Overboard)
04 -
Municipal Waste:
Backdraft
05 -
Municipal Waste:
Tango and Thrash
06 -
Bad Acid Trip:
You're No Bigger Than What Annoys You
07 -
Municipal Waste:
Eptar Ke Gourgeois
08 -
Municipal Waste:
Who Sabotaged Captain Keeanu, Orbit Whore, and Dr. Scopes' Space Ship
09 -
Municipal Waste:
Hamster Ball People of Earth
Download
Crucial Unit/Municipal Waste (Split) (2002)
01 -
Crucial Unit:
Five Inches of Oppression
02 -
Crucial Unit:
I Scream, You Scream, We All Scream For No Screamo
03 -
Crucial Unit:
Nine Hundred Samosas
04 -
Crucial Unit:
Wall of Death The Chain of Life
05 -
Crucial Unit:
I Heard Mayday Was A Riot
06 -
Crucial Unit:
Scrabble Punx
07 -
Crucial Unit:
Million Dollar Thrash Song
08 -
Crucial Unit:
This Machine Kills Buffets
09 -
Crucial Unit:
Thrashaholics Unanimous
10 -
Municipal Waste:
The Garbage Stomp (Intro)
11 -
Municipal Waste:
Wicked Fit
12 -
Municipal Waste:
Poser Disposer
13 -
Municipal Waste:
Chemical Artillery (The Toxic Survival)
14 -
Municipal Waste:
Insurance Fraud
15 -
Municipal Waste:
Scantron Slamathon (Detention Mosh Session, Part 2)
16 -
Municipal Waste:
Born To Party
17 -
Municipal Waste:
Abusement Park
18 -
Municipal Waste:
Percy's Trip to the Dentist
19 -
Municipal Waste:
Haunted Junkyard
Download
Waste 'Em All (2003)
01 - The Executioner (Intro)
02 - Sweet Attack
03 - Mutants of War
04 - Knife Fight
05 - Drunk As Shit
06 - Death Prank
07 - Substitute Creature
08 - Waste 'Em All
09 - Toxic Revolution
10 - I Want to Kill the President
11 - Thrash?! Don't Mind If I Do
12 - Dropped Out
13 - Blood Hunger
14 - Jock Pit
15 - The Mountain Wizard
16 - (Hidden Track)
Download
Hazardous Mutation (2005)
01 - Deathripper
02 - Unleash The Bastards
03 - The Thing
04 - Blood Drive
05 - Accelerated Vision
06 - Guilty of Being Tight
07 - Set to Destruct
08 - Hazardous Mutation
09 - Nailed Casket
10 - Abusement Park
11 - Black Ice
12 - Mind Eraser
13 - Terror Shark
14 - Bang Over
15 - The Thrashin' of The Christ
The Art of Partying EP (EP) (2007)
01 - Headbanger Face Rip
02 - Unleash The Bastards (Live)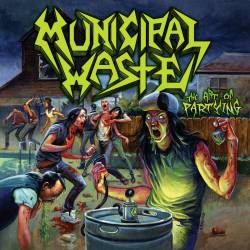 The Art of Partying (2007)
01 - Pre-Game
02 - The Art of Partying
03 - Headbanger Face Rip
04 - Mental Shock
05 - A.D.D. (Attention Deficit Destroyer)
06 - The Inebriator
07 - Lunch Hall Food Brawl
08 - Beer Pressure
09 - Chemically Altered
10 - Sadistic Magician
11 - Open Your Mind
12 - Radioactive Force
13 - Septic Detonation
14 - Rigorous Vengeance
15 - Born To Party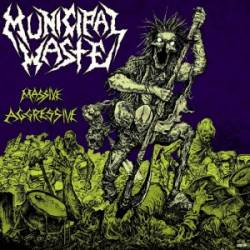 Massive Aggressive (2009)
01 - Masked By Delirium
02 - Mech-Cannibal
03 - Divine Blasphemer
04 - Massive Aggressive
05 - Wolves of Chernobyl
06 - Relentless Threat
07 - The Wrath of The Severed Head
08 - Upside Down Church
09 - Shredded Offering
10 - Media Skeptic
11 - Horny For Blood
12 - Wrong Answer
13 - Acid Sentence
Scion Presents: Municipal Waste (2012)
01 - Repossesion
02 - Garbage Stomp/Poser Disposer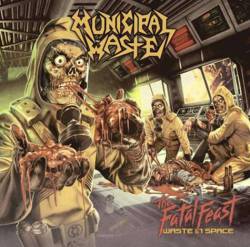 The Fatal Feast (2012)
01 - Waste In Space
02 - Repossession
03 - New Dead Masters
04 - Unholy Abductor
05 - Idiot Check
06 - Covered In Sick/The Barfer
07 - You're Cut Off
08 - Authority Complex
09 - Standards and Practices
10 - Crushing Chest Wound
11 - The Monster With 21 Faces
12 - Jesus Freaks
13 - The Fatal Feast
14 - 12 Step Program
15 - Eviction Party (Bonus Track)
16 - Death Tax
17 - Residential Disaster
Toxic Waste (Split) (2012)
01 - Municipal Waste: Trapped In The Sites
02 - Municipal Waste: Mourning Sex
03 - Toxic Holocaust: We Bring Em Hell
04 - Toxic Holocaust: Altered States