O Hirax é uma banda dos EUA de puro Thrash Metal. Começou em 1984 pela liderança do vocalista Katon W. DePena, que é a característica mas distintiva da banda e também é o único membro original que segue com a banda.
A banda tocava em Los Angeles e em San Francisco com as outras novas bandas de Thrash Metal como o poderoso Metallica, Exodus e Slayer. O Hirax é um exemplo claro do gênero Thrash/Speed Metal/Crossover.
Depois de lançar algumas demos, o grupo assinou com
Metal Blade
e gravou seu primeiro álbum,
Raging Violence
em 1985. A banda estava formada então por Katon W. De Pena (vocais),
Scott Owen
(guitarra),
Gary Monardo
(baixo) e
John Tabares
(bateria). Em 1986, John Tabares deixou a banda e
Erick Brecht
(irmão de
Kurt Brecht
, o vocalista do
D.R.I.
) se uniu. Depois da troca, lançaram seu segundo álbum, chamado
Hate, Fear And Power
de 1986. Depois do lançamento, anunciaram mais um pra coleção de sua discografia e fizeram a demo
Blasted In Bangkok
em 1987.
Katon decidiu partir e formar uma nova banda com o baterista
Gene Hoglan
(anteriormente de
Dark Angel
) e com o baixista
Ron McGovney
(anteriormente do
Metallica
). A banda se chamou "
Phantasm
" e gravaram uma demo com seis faixas em 1988. Depois de uma breve turnê com
Nuclear Assault
, a banda se dissolveu. Depois da partida de Katon, colocaram
Paul Baloff
(antigamente do
Exodus
) como vocalista em 1989, pouco depois também se separariam. Katon permaneceu "involucrado" com a cena musical, especialmente com a cena underground.
Em 1997, ofereceu uma canção para uma demo de compilações da banda de um de seus amigos, em 1998 Katon recebeu correios de fãs, para que voltasse a sua antiga banda. Que por fim, voltou a se unir novamente com a banda em 2000. Katon voltou a banda com sua formação original de Scott Owen, Gary Monardo e John Tabares, para lançar um EP El Diablo Negro de 2000. E em 2003, Katon recrutou uma formação totalmente nova, e lançou o álbum New Age of Terror em 2004, com os guitarristas Dave Watson e Glenn Rogers (ex Deliverance), e o baixista Angelo Espino, e o baterista Jorge Iacobellis.
Hirax (Demo) (1984)
01 - Born in the Streets
02 - Battle Cry
03 - Stand and Be Counted
04 - Believe in the King
Download
Raging Violence (1985)
01 - Demons - Evil Forces
02 - Blitzkrieg Air Attack
03 - Guardian Protector
04 - Bombs of Death
05 - Defeat of Amalek
06 - Raging Violence
07 - Call of the Gods
08 - Warlords Command
09 - Suicide
10 - Executed
11 - The Gauntlet
12 - Destruction and Terror
13 - Destroy
14 - Bloodbath
Download
Hate, Fear and Power (1986)
01 - Hate, Fear and Power
02 - Blind Faith
03 - Unholy Sacrifice
04 - Lightning Thunder
05 - The Last War
06 - The Plague
07 - Imprisoned by Ignorance
08 - Criminal Punishment
Download
El Diablo Negro (EP) (2000)
01 - I See Blood Red
02 - Slit Your Wrist (Anti-Suicide Song)
03 - El Diablo Negro
Download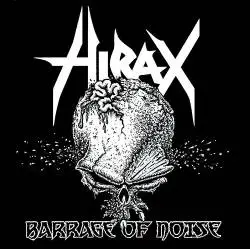 Barrage of Noise (2001)
01 - Murder One
02 - Barrage of Noise
03 - Walk with Death
04 - Broken Neck
05 - Jade
06 - Mouth Sewn Shut
07 - Beyond the Church (Pt. 1)
08 - French Pearl
Download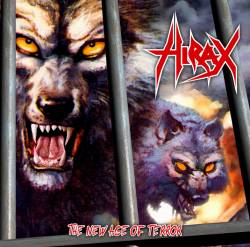 The New Age of Terror (2004)
01 - Killswitch
02 - Hostile Territory
03 - The New Age of Terror
04 - Swords of Steel
05 - Into the Ruins
06 - Massacre of the Innocent
07 - Hell on Earth
08 - Suffer
09 - El Dia de los Muertos
10 - El Diablo Negro (Remake)
11 - Unleash the Dogs of War
Download
Assassins of War (EP) (2007)
01 - Lucifer's Inferno
02 - Summon the Death Dealers
03 - City of the Dead
04 - Invasion
05 - Assassins of War
Download
Chaos and Brutality (EP) (2007)
01 - Chaos and Brutality
02 - Walk With Death
03 - 100.000 Strong
04 - Lucifer's Infierno Reprise
Download
Thrash Metal Assassins (2008)
01 - Demons Evil Forces
02 - Blitzkrieg Air Attack
03 - Bombs of Death
04 - Raging Violence
05 - Hate, Fear and Power
06 - Unholy Sacrifice
07 - Lightning Thunder
08 - Fear the War Within
09 - El Diablo Negro
10 - Murder One
11 - French Pearl
12 - Killswitch
13 - The New Age of Terror
14 - Massacre of the Innocent
15 - Unleash the Dogs of War
16 - Lucifer's Infierno
17 - Assassins of War
Download
Twitch of The Thrash Nerve - Satan's Fall (Split) (2008)
01 -
Hirax:
Satan's Fall
02 -
FKÜ:
Twitch of the Thrash Nerve
Download
El Rostro de la Muerte (2009)
01 - Baptized by Fire
02 - Flesh and Blood
03 - Eradicate Mankind
04 - Chaos and Brutality
05 - El Rostro de la Muerte (The Face of Death)
06 - Blind Faith
07 - Horrified
08 - Battle of the North
09 - The Laws of Temptation
10 - Death Militia
11 - Broken Neck
12 - Violent Assault
13 - Cuando Cae la Oscuridad (When Darkness Falls)
14 - Satan's Fall
Download
Raging Thrash (Split) (2010)
01 -
Hirax:
Baptized by Fire
02 -
Violator:
Futurephobia
Download
Hellion Rising/Water Boarding (Split) (2014)
01 -
Sodom:
Water Boarding
02 -
Hirax:
Hellion Rising
Download
Immortal Legacy (2014)
01 - Black Smoke
02 - Hellion Rising
03 - Victims of The Dead
04 - Thunder Roar, The Conquest, La Boca de La Bestia (The Mouth of The Beast)
05 - Earthshaker
06 - Tied To The Gallows Pole
07 - Deceiver
08 - Immortal Legacy
09 - S.O.W. (Intro)
10 - Violence of Action
11 - Atlantis (Journey To Atlantis)
12 - The World Will Burn
13 - Mephistopheles (Bonus Track)
Download