Confesso que demorei muito pra encontrar a discografia dessa banda quando um amigo me recomendou. Tipo, o som dos caras é perfeito! Quando ouvi falar sobre eles, dei uma olhada no Youtube, e acabei até tendo a oportunidade de assistí-los ao vivo. Minha reação foi de emoção ao saber que o Brasil tem bandas underground tão fodásticas ainda a serem descobertas! Então aqui vai a discografia dos caras!
O
Executer
é uma banda brasileira de puro
Thrash Metal.
Sua formação ocorreu em meados dos anos 80, na cidade de Amparo, perto da metrópole de São Paulo . O line-up consistia em
Juca
nos vocais,
Paulo
no baixo,
Elias
na guitarra e
Beba
na bateria.
Seus primeiros trabalhos foram duas demo tapes, que foram bem recebidas nos tempos de negociação entre as bandas, e em 1990, gravaram e lançaram o seu primeiro álbum de estúdio,
intitulado
"
Rotten Authorities"
. A sonoridade do disco é tão foda que se você for um fã de carteirinha da vertente, vai sentir arrepios logo na primeira audição, principalmente se tiver em mente que o som dos caras é comparado a outros mestres como como
Dark Angel
e
Whiplash
. Apesar de ser uma das bandas mais fodas do cenário do Thrash Metal brasileiro, eles tiveram que se separar após a liberação do álbum "Rotten Authorities", já que o baterista Beba se desligou do conjunto.
Um fato curioso e que durante a década de 90, todos os membros tocavam em outras bandas. Já em 2000, os caras retornaram com sua formação original, só que com algumas pequenas diferenças, como Paulo em vez de ficar no baixo, passou para guitarra. Com a "nova formação" eles lançaram mais dois álbuns, que na minha opinião são ainda mais fodas que o primeiro. São eles "
Psychotic Mind
" de 2003 (q
uando se compara o primeiro álbum ao segundo, nota-se uma grande diferença na guitarra. Na minha opinião, eles acertaram e por o Paulo na nova posição) e "
Welcome To Your Hell
" de 2006, mais um grande álbum, que na real é o melhor da banda. Os caras também tiveram seu primeiro álbum relançado. O Executer tem tocado em todo o Brasil, inclusive abrindo pra bandas de renome como o
Exodus
.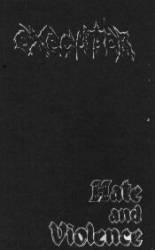 Hate and Violence - Demo (1988)
01 - Rotten Authorities
02 - Design of the Uncertainty
Rotten Authorities (1991)
01 - You'll Come Back Before Dying
02 - No Destiny
03 - Rotten Authorities
04 - Flight To The Other Side
05 - Money
06 - Humbug Lines
07 - Violence
08 - To Clear The Filthness
09 - O. A. O.
Download
Psychotic Mind (2003)
01 - Intro
02 - Lost Angels
03 - Suffering And Pain
04 - No More Racism
05 - Message To The Weak Ones
06 - Involuntary Suicide
07 - Chaos Memories
08 - Psychotic Mind
09 - Black September
Download
Welcome To Your Hell (2006)
01 - And the Rottenness Goes On
02 - 13
03 - Lead Years
04 - Sick World
05 - Mrdereslies Salvation of the Powerfull Ones
06 - My Hell
07 - Inspiration For Crime
08 - The Big Black Abyss
09 - Cause And Effect
10 - Power Thrashing Death
Download
Panzer Fest 2 (Compilation) (2013)
01 -
Panzer:
Heretic
02 -
Vulcano:
Church At A Crossroad
03 -
Executer:
Inspiration For Crime
04 -
Kamboja:
Se Deus Pudesse Me Ouvir
05 -
Fire Strike:
Streets of Fire
Download
(4shared)
Download
(Ulozto)
Helliday (2014)
01 - Helliday
02 - Insomnia
03 - No Sense
04 - Damn Speech
05 - Brain Washing Machine
06 - Hangover
07 - Deadly Virus
08 - The Big Pocket of The Shark
Download